Aileen Merriam Inspired by native plants of the Canadian Shield forest
(click an image for larger view)
Aileen's interest in watercolour began in the mid 1950s when she first discovered the challenge of this medium. Drawing, scientific illustration and watercolour grew naturally out of her studies in botany and conservation.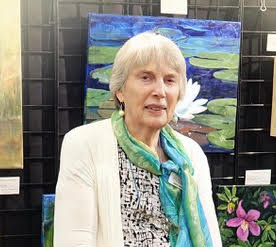 For many years the demands of family and work relegated sketching and painting to a recreation during vacations or trips to many parts of Canada and the world. Retirement offered the chance to try other arts and crafts, such as pottery, silk painting and faux stained glass.
In 2018, she added work in acrylics and finds this medium very different, challenging, and satisfying in its own way.
Most often Aileen finds her inspiration in nature, in landscapes and particularly in native plants growing in the forest around her home on the Canadian Shield beside the Salmon River.