Amanda Sullivan Connecting with people through art
(Click an image for larger view and details)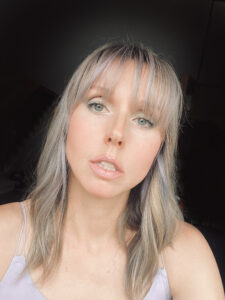 Born and raised on Canada's east coast, Amanda is a graduate of the New Brunswick College of Craft and Design (NBCCD) and the Nova Scotia College of Art and Design (NSCAD) University. After graduating she relocated to Ontario where she currently resides and paints under the moniker, Studio TEAL, a name inspired by her source of strength, and created in tribute from the first initials of her family… but as synchronicity would have it—it also happens to be one of her favourite colour palettes.
Amanda currently works in acrylic and creates content for social media. Her favourite subjects are those that connect her to nature and her East Coast roots, with the most common themes being those that relate to water and the ocean.
She began her artistic journey at a young age, avidly drawing in grade school. Later, art became an outlet and a way to cope with trauma. What currently inspires her is the way art is able to connect people, and bring life and vibrance to our communities.
"I love that I'm able to connect with people through my art, whether it be through teaching, meeting other artists at shows or art fairs, or through a person who I never would have met otherwise telling me my work spoke to them or they've been inspired by it. There's just no better feeling."
Socials and Contact Info:
Website: www.studioteal.com
Instagram: @studio_teal_
TikTok: @studio_teal
Facebook: @studiotealottawa
Contact email: [email protected]