Auni Milne Musings on the Human, Animal, and Natural World
(Click an image for larger view and details)
A graphic designer and illustrator by profession (www.sumackloft.com), Auni Milne moved from the big city to the forests and lakes of the Lanark Highlands in 2009 and has been drawing, painting, and sculpting ever since.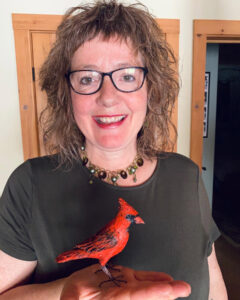 Therianthropy, a series of mixed media and watercolour pieces which feature animal-headed humans, muses on the connection between all we beasts, human and otherwise. More recently, Auni has delved into acrylic painting, using local forest, waterside, and farm scenery to create pieces reflecting the beauty of our locale. Her latest artistic adventure is creating small sculptures out of air dry clay nicknamed "Aunimals".
Auni attended the Ontario College of Art & Design University in Toronto as well as the École Nationale Supérieure d'Art de Bourges in France, and has taken online courses with the Kara Bullock Art School.
Auni's artwork has been featured in the annual CycleLogik group show 2009 – 2018, the Crown & Pumpkin Studio tour 2016 – 2019, in the March 2019 edition of 1340 magazine, and at a solo show in January 2020 at the MERA Schoolhouse. Her work can be found in several private collections in Ontario and across North America.
Auni's studio and gallery is in Clayton by appointment. Working from photographs, she is currently taking commissions for portraits, both human and animal.
To learn more about Auni's work or to contact her:
Website: www.theartfulauni.com
Instagram: www.instagram.com/theartfulauni
Facebook: www.facebook.com/TheArtfulAuni
Etsy: www.etsy.com/ca/shop/TheArtfulCircus
Email: [email protected]