Colleen Gray Powerful messages speak to the state of our planet
(Click an image to view larger with title and details)
Colleen Gray is a Metis artist and the founder of The Art for Aid Project, an initiative that sees much needed quality art supplies, art learning tools and creative skills labs being sent to remote Indigenous schools in Canada.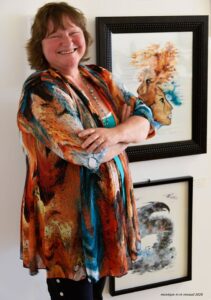 The Art
Colleen works in the relatively unexplored medium of ground mineral based watercolour paint on synthetic paper, along with conventional watercolour paper. A truly unique medium, the synthetic paper and paint combination offers a unique and somewhat unpredictable surface with results that leave both rules and artistic confinement in the dust. This progressive art form is catching the eye of those who are looking for something off the beaten path.
The viewer's eye is drawn into the work and becomes captured in the search for subtle hints of hiding faces and figures tucked away in the folds and layers of the paint. The art itself is an exercise in observation, but the accompanying stories that reveal the true nature of the work are the jewels in the crown. All of life has a story. Colleen tells hers through art.
The Background
Colleen's heritage is a combination of Mi'qmak, and Irish but neither heritage was prominent in her upbringing. Nearly 20 years ago she discovered her Eastern Indigenous roots and took a deep dive into the ceremonial community, resulting in experiences and traditional teachings that are now brought to life through her art and stories. Through her work, powerful messages speak to the state of our planet, Indigenous issues, the mysteries of spirituality, and missing and murdered Indigenous people.
The Purpose
Through her art, Colleen's intention is to connect people to the Indigenous understanding that everything is connected and sacred. She hopes to invite curiosity and learning through her art and through the stories it tells. She hopes to invite people to move forward together in concert with one heart, one mind and a singular effort to save our only home – our Mother the Earth.
Colleen believes deeply in the impressive power of art to bring healing, break isolation, invite critical thinking, creativity and joy to Indigenous youth.
Colleen sells her original work to help her pay the bills while she volunteers in her organization.
Products made with her art are sold through the Shopify store at www.artforaidshop.ca to help with her fundraising efforts for Art for Aid.
Accomplishments:
Awarded – Future of Good – Top 100 Recovery Projects 2020
Elle Magazine – Top 11 Indigenous Organizations to Support
The Governor General's Sovereign Medal for Volunteers – June 2019
Solo Exhibition – City of Ottawa Oct/Nov 2019
Galerie d'art Riverside – Solo Exhibition – July 2019
Eagles Rising Billboard Campaign – 2019
Missing and Murdered (Eagles Rising) Billboard Campaign – 2019
To learn more about Colleen's unique art and The Art for Aid Project, explore these links:

Art for Aid: www.artforaid.ca
Art for Aid Shop: www.artforaidshop.ca
Instagram: @artforaidproject
Personal art page: www.colleengrayart.ca
Instagram: @colleengrayart