Giedre Abromaitis Paintings with bright, deeply saturated and varied colours
(Click an image for larger view and details)
Giedre's journey in art began after retirement. While always having a love of drawing and sketching, retirement finally allowed Giedre to immerse herself into the world of art. She has also always had a love for the wilderness and has spent much time travelling across Canada, camping, hiking, kayaking, and photographing the scenery in all 4 seasons. She now paints the scenes that she loves in hopes that viewers will understand the importance of preserving and loving our precious natural spaces. The rich colours and shapes evident in the vistas she has seen are translated into her paintings through bright, deeply saturated and varied colours.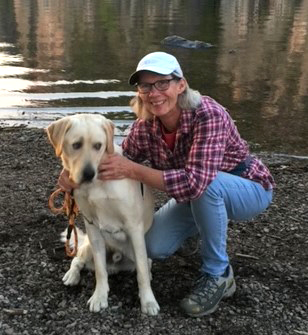 Giedre paints in acrylics and oils, sometimes exchanging brushes for palette knives in her paintings. She has studied with many acclaimed Canadian artists and continues to enroll in classes and workshops as she believes there is always something new to learn. She is a member of the Manotick Art Association and is its current President. She is also a member of Arts Carleton Place, The West Carleton Arts Society, and Mastrius.
Giedre's studio is in her home in North Gower, a rural village just south of Ottawa, where she has lived for over 35 years.
Artist Statement:
Being in nature is a very spiritual experience for me that brings both rejuvenation and joy to my soul. Through my paintings, I seek to bring the feeling of peace, joy and exhilaration to my audience. I love what I paint and paint with my heart and soul. I aim to bring my glimpses into our natural world to my viewers and I hope they will join me in understanding and celebrating nature's healing power.
For further viewing of Giedre's work:
Website: www.giedreabromaitis.com
Instagram: @giedre_abromaitis_art
Facebook: @abromaitis53
Contact Email: [email protected]
Resume
October 2022: Inspirations: Small Treasures; MAA Fall Show
October 2022: Forest Therapy, Solo Show at the Hunt Club Riverside Community Center, Ottawa
May-June 2022: Algonquin Ambiance, group show at the Algonquin Park Visitor Centre, Algonquin Room
May 2022: Arts Carleton Place Fine Art Show
April 2022: Inspirations: Spring Show and Sale; MAA
Fall, 2020 And Fall, 2021: MAA Inspirations On-Line Shows
June 2019: North Grenville Arts Guild Art Show and Sale
April 2019: Inspirations Spring Show and Sale, MAA
June 2018: Richmond 200 Art Show and Sale
April 2018: Inspirations Spring Show and Sale, MAA