Janet K. MacKay Vibrant and distinctly Canadian art
(Click an image for larger view and details)
Janet K. MacKay is both a sculptor and painter working out of Worldview Studio, located in Sharbot Lake, Ontario. She received her degree in Fine Arts from McMaster University, and after a career in government in design and project management returned to her artistic roots in 1998.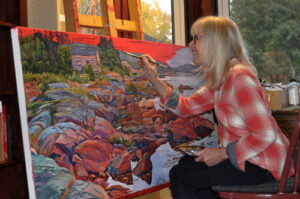 Janet's bronze sculptures have an Art Nouveau flare to them and are primarily figurative, often focusing on dance. She is presently working on a series of sculptures capturing the graceful beauty of whales.
Janet's oil on canvas paintings are primarily of the landscapes of Ontario and Quebec. Although her painting style is distinctively her own, she has been likened to the Group of Seven. She is presently working on a series of paintings called "Canoescapes". Her paintings are vibrant and distinctly Canadian.
Janet has participated in numerous solo and group shows and enjoys these opportunities to see first hand that spark of connection her Art can make with its audience.
To see more of Janet's work:
Visit Worldview Studio virtually – https://worldviewstudio.ca/artists/janet-k-mackay/
or Contact Janet to arrange to see her work in person.
Tel: 613 231 6314
Email: [email protected]