Janice Barclay expressing herself with colour and texture
(Click on an image for a larger view)
Janice has been an artist and painter for many years, completing art classes from Ottawa School of Art, City of Ottawa and local artists.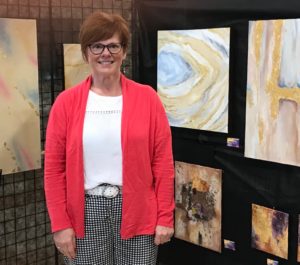 She enjoyed a long career as an Elementary School teacher where she would incorporate art into her lessons whenever possible. She encouraged her students to enjoy the process and not just focus on the end product. Janice also worked as an Arts Consultant at the Ottawa Catholic School Board striving to bring the arts alive in classrooms for her fellow Teacher colleagues. She has also taught Art and Language Arts at University of Ottawa for second year Teacher Education candidates. Janice has run summer art workshops for adults with special needs.
She enjoys the creative process and experimenting with new techniques. Janice particularly loves expressing herself with colour and texture through various mixed media to create abstract pieces. Janice hopes to continue learning and creating and sharing her love of the arts for many years to come.