Judith Versavel Using expressive colour to enhance her work
(Click an image for larger view and details)
Every budding artist has a beginning and Judith knew she wanted an artistic life at age seven. Her first drawings were crude affairs, but gradually they changed and became something more. Her path was set. She drew people, cartoons and horses, many of them gifted to school friends.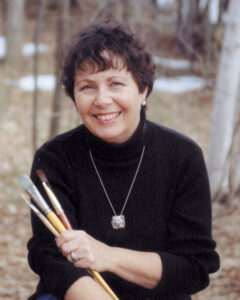 Her first job in Toronto, where she grew up, was drawing ads for the Bell Telephone Co. Yellow Pages. In 1986, after an 8-year stint as a graphic artist at Camden House Publishing (Harrowsmith Magazine) she began working for Kingston Publications, gave up her drafting table and hit the digital world. During her career, Judith taught fashion and graphic illustration, plus various painting courses at St. Lawrence College in Kingston. She also painted commissions, mainly portraiture in watercolour.
In the mid-90's, Judith began exploring acrylic painting and appreciated the lush colours and quick drying time. Watercolour dries lighter, acrylic dries darker, another difference when working back and forth between both mediums. But Judith persisted and found pleasure in their challenges.
In 2002 she moved to Arden, a small town north of Kingston where her family had roots from the late 1800s. Here she opened her "Gallery on the Bay" and drew in a loyal clientelle who enjoyed her colourful paintings and original one-of-a-kind jewellery. Judith and five other artists in Arden became known as the Arden Artisans, holding an Annual Garden Party and Open Studio Event, and participating in the Inroads Studio Tour each year.
Painting excursions with friends to Val-David and the Charlevoix region in Quebec and a painting trip to Italy in 2007 brought the enjoyment of plein-air painting. She has participated in many art shows and has shown her work in local venues over the years in Toronto, the Kingston area and Perth. Judith's subject matter is varied and her use of expressive colour enhances her work. Her paintings are in private collections in Europe, Mexico, the United States and throughout Canada.
Her most unusual experience occurred when a painting she did after seeing Schindler's List years ago was gifted to a doctor in Toronto in the late 1990s. Years later she received an email from a man wanting to know if she was the artist who had produced the painting. He had bought it at an auction house in New York. You never know where your work will end up and isn't that a happy thought!
To learn more about Judith's work or contact her:
Studio/Gallery on the Bay
1010 Willett Lane,
Arden, ON K0H 1B0
Email: [email protected]
Website: www.galleryonbay.com