Kim Land – Aurora Light Sculptures
More driftwood picking than fishing
(Click an image for larger view and details)
Aurora Light Sculptures came about from my need to work with my hands combined with my love of nature and all things natural. For way too many years I fought my need to create because adulting got in the way. As a result, there was always something missing in my careers and I wasn't truly fulfilled so I decided the fight was over and followed dreams.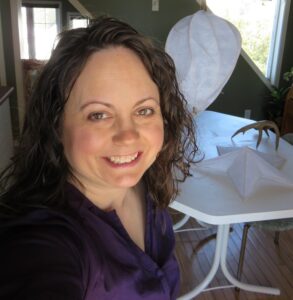 This all started while I was surfing The Net and was stunned by a picture. Shortly after, I was out fishing with my other half and I spotted a piece of driftwood and knew exactly what I was going to make with it. After a few months of trial and error, The Wave came alive…subsequent fishing trips yielded more driftwood pieces until I was doing more driftwood picking than fishing.
The name 'Aurora Light Sculptures' came about from the aurora borealis that we, here in the north, are so fortunate to witness as well as the flow of the lines in this type of art that are so organic and fluid.
This is what I was called to do…this career…this love…I plan to continue with this calling well into retirement age.
To learn more about Aurora Light Sculptures:
https://auroralightsculptures.com/
https://www.facebook.com/aurorasculptures