Linda Hamilton Creating a sense of wonder with botanical sculptures
(Click an image for larger view and details)
Linda is an artist working out of her home studio in Almonte, Ontario, Canada. Her current focus is creating botanical sculptures out of paper.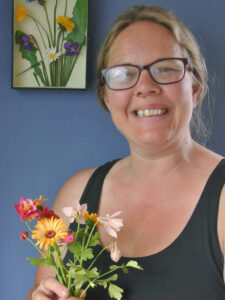 She has been creating art for most of her life, and making paper flowers for about 10 years. She earned her BFA from York University in Toronto. Soon after her two kids were born, she started to create large scale paper flowers for displays. Her house quickly filled up with them so she had to switch to a more realistic size! At the same time, she was concentrating on making her flowers more and more botanically accurate. She uses all sorts of paper and paint, along with glue and wire, in an effort to accurately recreate plants and flowers. Linda mounts her finished flowers in shadow boxes, or displays them in jars, as this isolates them and presents them as botanical sculptures.
Linda loves to create a sense of wonder with her work, and to encourage respect for, and interest in, nature. She knows that many people have a strong emotional connection with flowers, and this is something she continues to explore. Her future goal is to create larger shadow boxes that incorporate multiple species "growing" together.
Linda creates paper flowers under her business name, Daydream Flowers. She sells her work on her website, creates custom flowers for clients, offers paper flower making workshops, and participates in exhibits and sales. In 2021 Linda was honoured to be invited to join the Paper Artist Collective, an international group of paper artists. Linda's work has been exhibited in Canada and the United States, and her pieces can be found in private collections around the world.
For more information about Linda's creations or to contact her:
Web Address: www.daydreamflowers.ca
Instagram: @Daydream_Flowers
Facebook: https://www.facebook.com/Daydream-Flowers-321806648155698
Email: [email protected]