Marianne H Nielsen Exploring patterns, colours and movement found in nature
(Click an image details and larger view)
Marianne's abstract paintings are a vibrant expression of energy and emotion. She began painting as a way to relieve the stress of daily life and find an outlet for self-expression.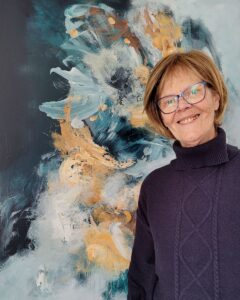 Marianne paints in many layers, each layer adding to the story, using acrylic paint, markers, acrylic ink, an assortment of paint brushes, and unconventional tools such as kitchen sponges, whisks, spatulas, and scrapers to create expressive and dynamic paintings. Each layer is pushed, pulled, and blended to achieve a harmonious finish.
While seemingly non-representational, Marianne's work explores the patterns, colours and movement found in nature. Clouds, rain, stars, and other natural elements make appearances in her paintings, each one carrying its own set of emotions. Music plays a significant role in Marianne's artistic process, influencing the fluidity and movement of her work.
Marianne's ultimate goal is to create artwork that evokes feelings of joy, peace, and exuberance and allows her audience to find their own imaginative imagery and emotions within her art. She strives to create pieces that resonate with her viewers and bring them a sense of happiness and fulfillment.
She lives and works in a small township outside of Ottawa, Ontario painting from her home studio with a view of the forest. Her work can be found in private collections around the globe, including Canada, North America, Europe, Australia, and South Africa.
To contact Marianne or learn more about her art: