Mary Nethery monochromatic colouring mixed with realism
(click an image for larger view and details)
A traditional and digital artist, Mary Nethery attended the Lviv Academy of Arts in Ukraine before immigrating to Canada where she graduated from the Fine Arts program at St. Lawrence College with distinction and honours.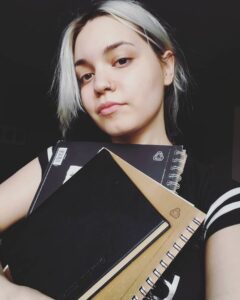 She takes inspiration from video games such as Bungie's Destiny franchise, CD Projekt Red's Witcher franchise, Dungeon & Dragons, as well as skulls and bones. Using monochromatic colouring mixed with realism, Mary creates compelling artwork that looks as stunning on canvas as it does on a screen.
Winning multiple gallery competitions, as well as being featured in magazines, and designing novels, Nethery continues to push herself forward.
She lives in the town of Carleton Place, Ontario, with her partner, author Zack Nethery.
Facebook: https://www.facebook.com/MaryNetheryArt/
Instagram: https://www.instagram.com/marynetheryart/
Twitter (X): https://twitter.com/MaryNetheryArt
Artstation: https://www.artstation.com/marynetheryart