Maureen Bennett Vibrant bold clean lines of colour
(Click an image for larger view and details)
Maureen envisioned expanding the same concepts of design she used in stained glass and quilting into her own through a new medium – painting contemporary styled bold graphic depictions of Canadian landscapes with acrylic on canvas using her signature vibrant bold clean lines of colour.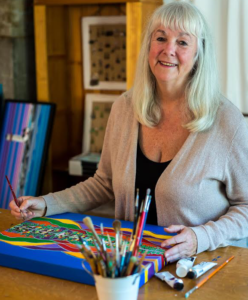 Maureen brings a new series titled 'The Red Canoe'. Varied sized acrylic paintings depict a "red canoe' which is placed in varied distinctive Canadian landscapes. She paints from memory and the emotional experience rather than photographs. Her landscape paintings have a feeling of peace, solitude and quiet.
Inspired by 'The Group of Seven' and their use of bold colour and graphic style her paintings take on a new life through exuberant use of colour laid down in parallel strips of 'bold clean lines'.
Maureen's signature use of different colours and brilliant hues create depth and vibrancy which are offset with simplified forms and solid shapes. It's all about not being afraid of colour.
Maureen has lived and travelled extensively. She is a self taught artist who started painting in 2014. However it was not until 2017 that she applied to her first juried art show, 'The Toronto Outdoor Art Fair'. In 2018, she had the honour to be nominated for an 'Emerging Artist Award' at the Toronto Outdoor Art Fair.
She works from her studio/gallery in the town of Perth, Ontario where she creates, designs and experiments with acrylic on a daily basis.
To learn more about Maureen's art:
Website: https://www.timesgonebystudio.com
Email: [email protected]
Tel: (705) 457-7474