Robert Reid Creating extreme levels of detail in his chosen subjects
(Click an image for details and larger view)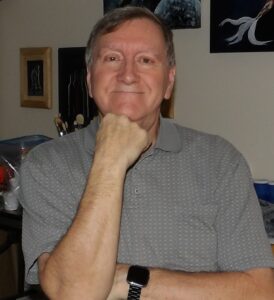 Robert spent his career managing factories and manufacturing facilities in the Ottawa area and Nova Scotia. He is primarily a self-taught artist and has focused on visual art since 2013. He finds Artistic inspiration in many different subjects and mediums, including; Watercolor, Colored Pencil and Pyrography. His current mediums for creative focus are Scratchboards and Acrylic Painting.
He's a member of 'Arts Carleton Place' and the 'West Carleton Art Society' as well as a past member of the 'Manotick Arts Association'. He currently lives in Carp, Ontario and can be contacted through his website.
About the Art
Scratchboard is drawing with an Exacto blade and other sharp metal tools used to "Scratch" an image onto a particular board. This medium allows for extreme levels of detail in his chosen subjects. He is also creating Acrylic Paintings on various topics. Robert says, "I find both these mediums challenging but very satisfying to work in."
You can see his work at various art shows throughout the year and on his social media.