Salena Richard Creating 'East Coast vibe' artwork
(Click an image for details and larger view)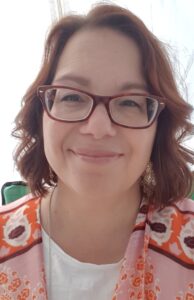 Salena Richard has been an active member of the art community for over 20 years. Currently she is the president of the Richmond Village Art Club and curating a virtual exhibitions for the RVAC and solo exhibitions for herself. Salena is experienced in working with acrylic paint, pencil portrait drawings, photography and textile designs.
Born in Dartmouth, Nova Scotia, Salena grew-up next to the Atlantic Ocean, drawing inspiration and solace from the sea. Through the soul calming colours and flowing designs within the acrylic works to the life-like accuracy of the pencil portraits, the diverse talents of this artist are clearly displayed.
Initially self taught, these foundations were later reinforced while studying at various institutions across the country, developing a flair for subtle, yet unique designs.
Working out of her home art studio in Richmond Ontario, she currently divides her time between commissions for clients, and creating an East Coast vibe artwork with different acrylic painting styles.
To learn more about Salena's art or contact her:
Web: www.salenadraws.com
Email: [email protected]
Facebook: https://www.facebook.com/Salenadraws
Instagram: https://www.instagram.com/Salenadraws