Tamara H Campbell Creating a visual escape, a place to get lost in the details, colours, and textures
(Click an image for larger view and details)
Tamara Campbell is an emerging abstract artist, working primarily in mixed media. She lives about an hour west of Ottawa, tucked away in the woods, near the village of Burnstown. Tamara has experimented with art since her childhood. As an adult, she took a wide variety of art courses and studied Photographic Arts at what is now Toronto Metropolitan University.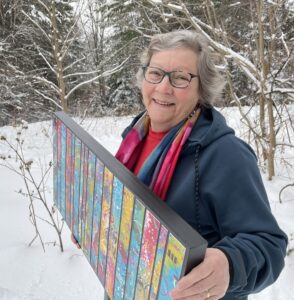 Nature inspires her work with its abundance of colours, textures and forms; these details are conveyed through the many layers that build upon each other as she creates her paintings. Her unique style blends playful creativity with learned techniques.
Her life experiences, both wonderful and difficult, inform her perspective. Her goal as an artist is to create a visual escape for her viewers – a place to get lost in the details, colours, and textures. She also uses art as a process to search for peace, happiness and healing within herself.
To learn more about Tamara's art or contact her: