Trina Ganson a memory of how things have been changed through human influence
(Click an image for larger view and title)
Trina Ganson received her diploma of fine arts from Okanagan University College in 2005. Shortly after, she moved to Vancouver, British Columbia, where she became an active member of Malaspina Printmakers Studio on Granville Island.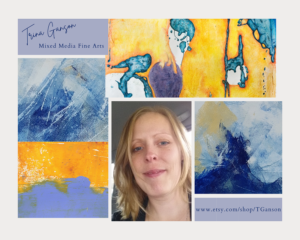 A number of years later Trina returned to the Okanagan to finish her Bachelors of Fine Arts. In 2008, after she had graduated from the University of British Columbia, Trina along with three other artists started an artist coop and gallery known as Studio 113 in the Rotary Centre for the Arts located in Kelowna BCs cultural district.
During the spring of 2018 Trina and her family relocated to Ontario, where she continues to practice printmaking and book binding.
Here is a little bit about Trina's art practice:
As a mom of three little ones I feel that it should come as no surprise that I like to experiment, play, and be creative. My art is evocative of the natural environment around me, a memory of how things have been changed through human influence. The art works may not seem to be a true representation, but serve as a reminder of a time through the contemplation of colour, shape and texture. The hand bound books are created to encourage others to formulate a journey of their own and record their own reflections of the world around them. I make art cards because I love to send mail, I love the tactility it lends to our interaction with each other even if we are far away, it can bring us together in a small way that an email or text message can not.
To see more of Trina's work or to see what else this mother of three gets up to visit her at:
https://www.etsy.com/shop/TGanson
https://www.instagram.com/trinaganson
https://trinaganson.wordpress.com