Alison Simser Spirited colour choices, purposeful brushstrokes and expressive texture
(Click an image for larger view and details)
Alison is a contemporary painter, creating expressionist works of landscapes, animals and abstracts. She is inspired by the shapes and rhythms of nature and the innocent charm of animals. Also inspiring to her is colour and the way colours can play with each other – soothing combinations that calm, and striking contrasts that energize, are equally thrilling for her to work with.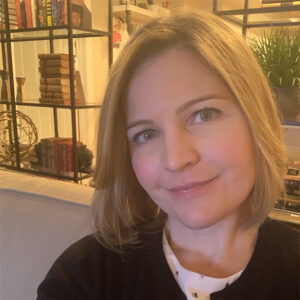 The daughter of an accomplished artist, her appreciation for art and art history began early in her teen years, when she started drawing and visiting art galleries with her father. She is primarily a self-taught artist, with formal training in graphic design and photography. Working out of her home studio and listening to music or true crime podcasts, she can often be found painting at her easel with two dogs at her feet! When not painting, she is likely reading about it – she enjoys books about artists (past and present) and the creative process.
Painting is an explorative process for Alison and she is inclined to let her work evolve organically. Her creative process is mainly about deconstructing the scene or subject, removing detail and building it back up through spirited colour choices, purposeful brushstrokes and expressive texture.
She paints subjects the way she feels them, so is less fussed with specifics and more focused on invoking sensation and spirit. Her use of loose and lively brush work, shapes and lines gives her work a feeling of movement. The end result is a dreamy scene, full of life and energy. When looking at Alison's work, she wishes the viewer to feel as though they are on the cusp of reality and a dream, with space and time to contemplate.
To learn more about Alison and her work:
website: alisonsimserart.com
Instagram: instagram.com/alisonsimser
Email: [email protected]