Nadine Sculland Miniature Quilts and Sew Much More!
I can't imagine not sewing with so many interesting quilt books, patterns and fabrics available, the inspirations are endless but my time isn't. That is why I create miniature versions of large traditional quilts. They are framed to make them into pieces of artwork worthy of hanging in your home, cottage or office. I have acquired several awards for both large quilts and my unique miniatures at quilt shows and Country Fairs.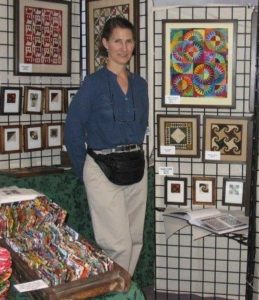 I also participate in several art shows and studio tours such as The Maple Run Studio Tour, the Crown Pumpkin and The Valley Artisan Show where you can find my miniature quilts displayed as well as other quality sewn items.

To view my miniature quilts and more, please visit:
www.miniaturequiltsandmore.blogspot.ca
www.facebook.com/miniaturequiltsandsewmuchmore